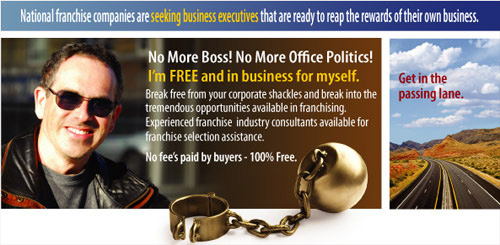 Using a Business Broker for Buying a Small Business
and Selling a Small Business Makes Good Sense
If you have your heart set on working for yourself, buying a small business that's already in existence might be the option for you. For many entrepreneurs the idea of starting a company from scratch becomes overwhelming. In contrast, buying an existing business or buying a franchise becomes a viable alternative. Buying a small business takes a sizeable amount of research and if you don't know what you are looking for, you could end up making a bad deal. Brokers, like Sunbelt Business Brokers in New Jersey, can expertly guide you through the entire process to make sure you are purchasing the type of venture that will best suit your needs.
Selling a small business on one's own is a complicated undertaking. Everyday small business owners make drastic mistakes when selling their business and lose thousands of dollars in the process. There are a number of crucial steps you must take in selling a small business that, if mishandled, will cause all your hard work to go down the drain. Business valuations, confidentiality agreements, financing, and negotiations are all areas that can wreak havoc on your investment if not handled properly. Sunbelt Business Brokers are expert in making sure all the details of selling a small business are carried out correctly so you can reap all the benefits of your years of hard work.
If you are considering the purchase or sale of a small business in New Jersey, contact Sunbelt Business Brokers today.
Finding and Qualifying Small Businesses
that are for Sale in NJ is what
Sunbelt Business Brokers does Best
As a business broker, Sunbelt Business Brokers searches for small businesses that may be for sale in New Jersey. We also accept, as clients, business owners wishing to sell their small business. Each business selected to be represented by Sunbelt Business Brokers goes through a series of "health check-ups" and accounting reviews to make sure the small business is profitable, healthy, and ready to take on a new owner.
Many factors come into play when buying a small business. Our site has advice and several articles on buying a small business in NJ. Our site also offers many articles for the existing business owner to read and consider before taking the first step in selling their business. For more information, please refer to our helpful articles and pages on selling a small business in New Jersey.
If You are Interested in Buying a Franchise,
Fran-Net Specializes in Finding
Reliable, Quality Franchises in New Jersey
Buying a franchise may seem like a reliable way to enter into small business ownership. After all, you are under the umbrella of a franchise that has a marketing plan, financing, and a business plan that has been proven to be successful. Unfortunately, not all franchises are great business deals. When buying a franchise, it is important to take the time to consider your options. Our experts have done the research for you and can help you select the franchise operation that suits you best. For more information, please refer to the numerous articles and web pages that discuss the steps in buying a franchise in NJ.